🌟 Celebrate Sri Krishna Janmashtami 2023 with Us! 🌟
Mark your calendars for a joyous and spiritually uplifting celebration as we come together to observe Sri Krishna Janmashtami, the divine appearance day of Lord Krishna!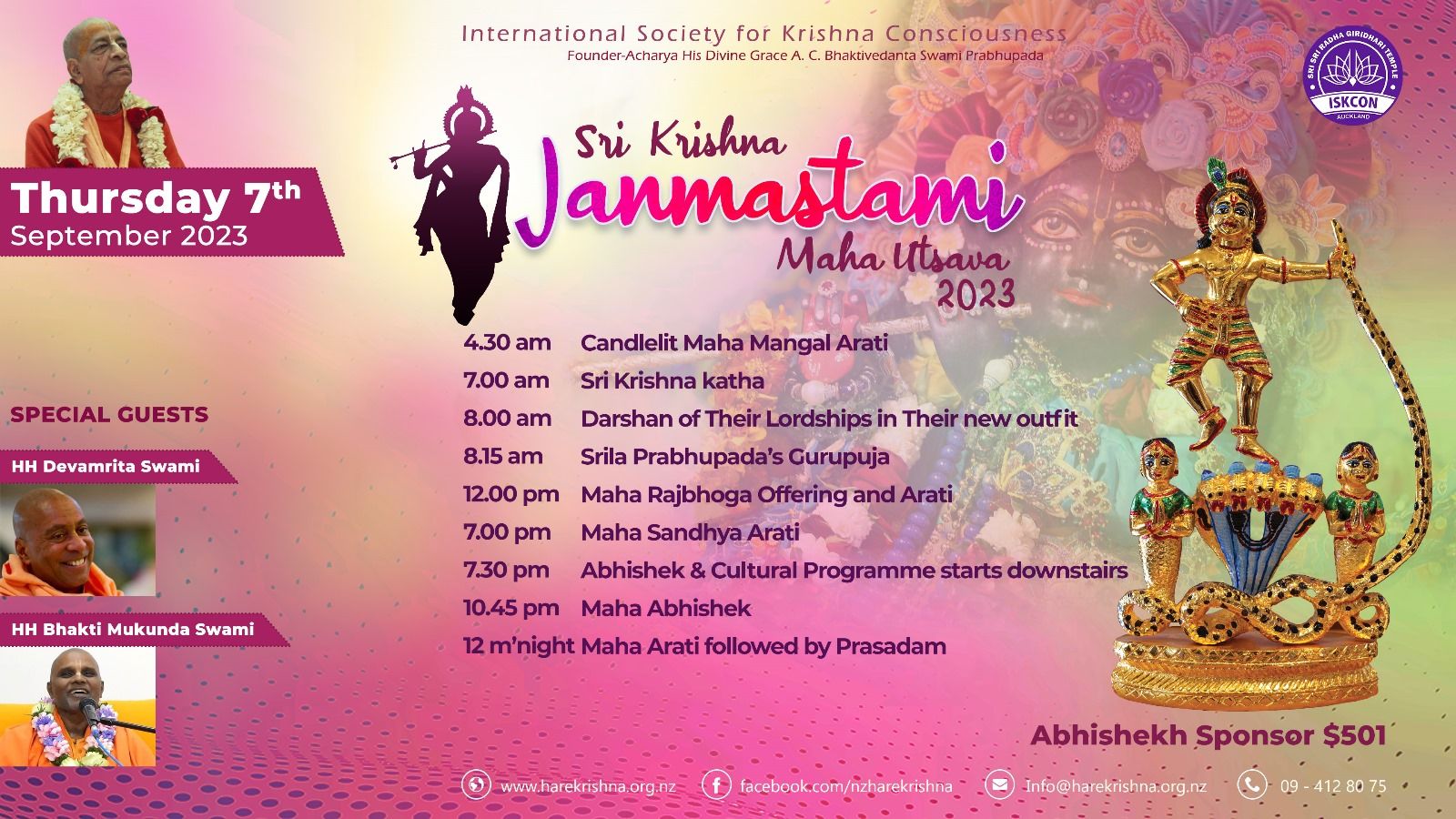 📅 Date: Thursday, 7th September 2023
🕒 Time: See poster for details
📍 Location: ISKCON Auckland, 1229 Coatesville Riverhead Highway, Kumeu
Sri Krishna Janmashtami is a cherished festival that commemorates the birth of Lord Krishna, the Supreme Personality of Godhead. Join us at ISKCON Auckland for a day filled with devotion, enchanting kirtans (devotional singing), enlightening discourses, and a heartwarming community atmosphere.
Event Highlights:
🎶 Soulful Kirtans and Bhajans
🕉️ Abhishek (Ceremonial Bath) of Lord Krishna's Deity
🪶 Exquisite Decorations and Ambiance
🍽️ Ekadashi Feast and Food Stalls
🎭 Cultural Performances
🎤 Special Guest Speakers
Let the divine vibrations of this auspicious day rejuvenate your spirit and fill your heart with love and devotion for Lord Krishna. Sri Krishna Janmashtami offers an opportunity to experience the blissful presence of the Lord and connect with the ISKCON Auckland community.
If you would like to be an Abhishekh Sponsor pls complete the following form and email it back to us.