🌼 Celebrate Jhulan Yatra & Lord Balarama's Appearance Day 2023! 🌼
Get ready to immerse yourself in the joyous festivities of Jhulan Yatra and celebrate the auspicious appearance day of Lord Sri Balarama!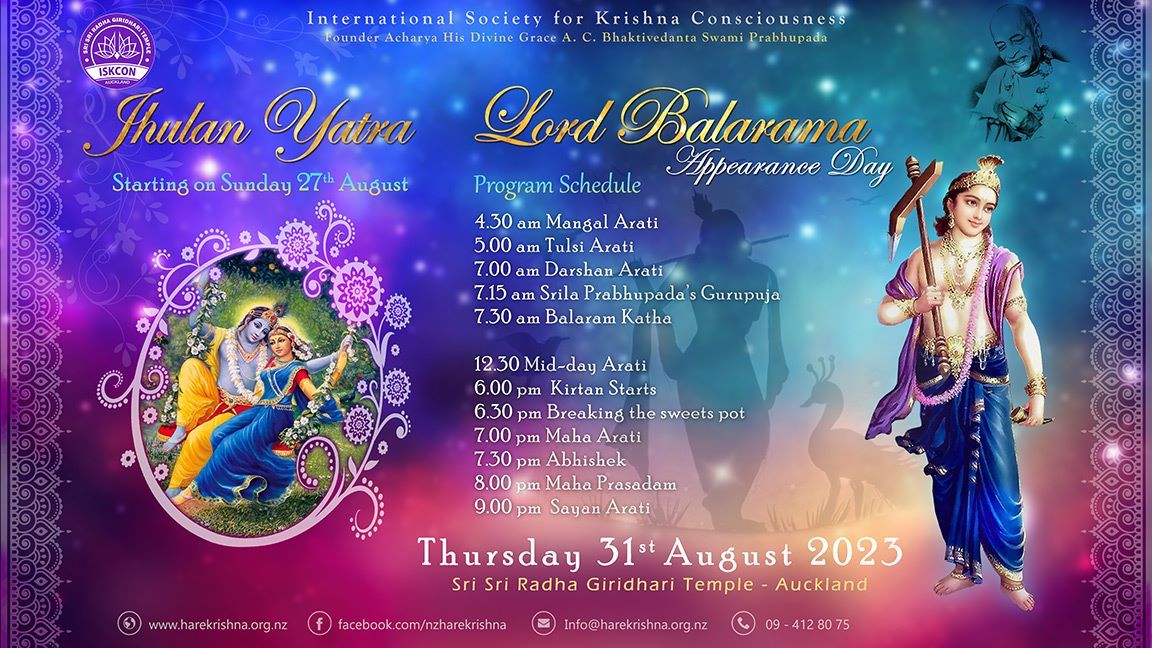 📅 Date: Thursday, 31st August 2023
🕒 Time: See poster for details
📍 Location: ISKCON Auckland
Jhulan Yatra is a captivating festival that recreates the sweet pastimes of Lord Krishna and Sri Radharani, as they swing on beautifully decorated swings in the forests of Vrindavan. This enchanting celebration symbolises the eternal love and playfulness between the Divine Couple.
On this same day, we also celebrate the divine appearance of Lord Sri Balarama, the elder brother of Lord Sri Krishna. Lord Balarama's appearance is a time for reflection on His extraordinary qualities, His role as Krishna's best friend and protector, and His deep compassion for all living beings.
Event Highlights:
🌺 Jhulan Yatra Swing Festival
🌼 Discourses on the Glories of Lord Balarama
🎵 Kirtans and Bhajans
🎉 Festive Decorations and Atmosphere
🍽️ Special Prasadam
Join us at ISKCON Auckland to partake in this heartwarming celebration of love, devotion, and spiritual unity. Whether you're familiar with these divine pastimes or new to their significance, Jhulan Yatra and Lord Balarama's Appearance Day offer a unique opportunity to connect with the divine and experience profound spiritual bliss.
Spread the word, invite your family and friends, and come together to celebrate the divine pastimes of Jhulan Yatra and honor the appearance of Lord Sri Balarama!
Hare Krishna 🌸